HEART OF THE SHAMAN
With Richard Yensen & Donna Dryer
Cortes Island, British Columbia, Canada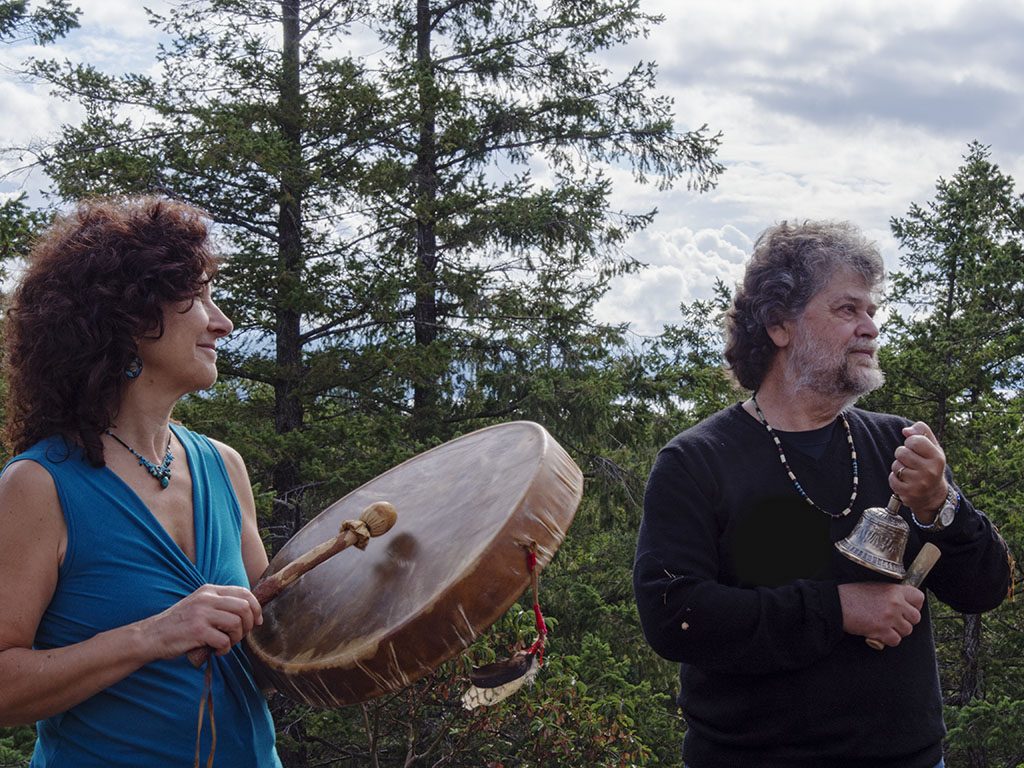 Richard Yensen Pérez-Venero, PhD, A pioneer in transpersonal psychology and psychedelic research since 1972. He has worked as an investigator or sub-investigator and research psychotherapist in studies of MDMA, MDA, LSD, DPT and many psychoactive fungi and plants. He trained at the Maryland Psychiatric Research Center in Baltimore, Maryland.  Richard has been a professor at Harvard and University of Maryland medical schools, Johns Hopkins and Union Graduate School.
As part of his own journey, he received direct experiential knowledge of the mushroom lineage from Mazatec curandera Maria Sabina. He is a pioneer in non-drug ways to access deeply sacred states of mind. He is Director of the Orenda Institute.
Donna Dryer Perez-Venero, MD, MPH, A transpersonal child and adult psychiatrist she was co-therapist with Richard in the Phase 2 Vancouver MDMA  for PTSD research. She studied the Hmong hill tribes in Thailand. Currently Medical Director of the Orenda Institute and in private practice on Cortes Island, BC.
Richard and Donna are co-founders of the Orenda Institute, which seeks to integrate shamanism into modern healing practices.
August 1-10, 2019
10 days / 9 nights
Gourmet Lunches and Dinners included
$3,000 CAD + GST
Approximately €2,000 Euros or $2,250 USD
Cortes Island, British Columbia, Canada
The Heart of the Shaman is a life-changing journey to the source of all things.
Through age-old rituals, we create a trusting atmosphere, a sacred vessel for profound personal exploration and spiritual growth. We lead participants through a crafted sequence of experiential vignettes, where a sense of safety, belonging and emotional depth is formed and then deepened. Using breathwork, bodywork, visual stimuli, voice and music we support you to develop deep states of altered consciousness that cultivate profound catharsis.
The healing crucible at the core of the experience is an all-night ceremony and a subsequent integration process that moves each of us into a sacred sense of being beyond time and space in a place where opposites meld into oneness, a place of overflowing love and nurturing. This rebirth into the spiritual realm of profound healing, joy and reverence is the hallmark of this work.

Join us on an extraordinary journey of spiritual initiation into the Great Mystery. This experiential workshop is physically demanding and includes an all-night ceremony. This a very special experience for only 10 participants with four facilitators!
★ A priceless opportunity to take a personal journey that offers the best environment to explore and integrate difficult psychedelic experiences.
★ Full participation is the key to understanding psychedelics for personal, spiritual growth and this is key to getting the most benefit from this opportunity.
★ A peak experience without ingesting a psychedelic.
★ Experienced psychedelic therapists in a sacred vessel open your personal process and journey into spirit.
★ Your attention will be engaged through preparatory autobiographical exercises.
★ Experience a powerful group process that is safely contained with ritual and ceremony.
★ High quality sound, music and images enhance your healing experience.
★ Talking Stick Ritual facilitates deep personal work in an environment where everyone is held and heard with respect.
★ Poetry amplifies the beauty and meaning of a life-changing encounter.
★ Bodywork grounds the experience physically and emotionally.
★ Profound natural beauty surrounds our ceremony and ritual.
★ Together we create a trusting community that supports deep process.
★ Heart of the Shaman blends ancient and modern elements into a relevant contemporary healing process.
★ We walk a path that involves the evolution of autonomy, respect and esprit de corps (the spirit of the group).
★ Art is central to our creative healing process.
★ Donna and Richard bring over fifty years of experience guiding psychedelic and non-psychedelic sessions into a focused experience that heals, transforms and teaches.
Charming Accommodation
Cortes Island is located off the west coast of Canada nestled between British Columbia's mainland and Vancouver Island. A planetary treasure, Cortes is surrounded by the pristine waters of the Salish Sea and is home to beautiful lakes, cedar forests, white sand beaches, stunning sunsets, abundant wildlife, and friendly locals.
During your stay on Cortes, you'll enjoy West Coast hospitality at a large ocean-front home with a spacious deck, fireplace room, an ample kitchen, with comfortable private and shared accommodations.
Join us on an extraordinary journey of spiritual initiation into the Great Mystery.
Heart of the Shaman
$3,000 CAD + GST
about €2,000 Euros or $2,250 USD
August 1-10, 2019
10 days / 9 nights Gourmet Lunches and Dinner's included
For more information and to register please contact Richard Yensen at the Orenda Institute at ryensen@orenda.org